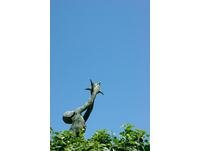 Subcategory: News and happenings
Creation date: 14/01/2012
Description: este grupo trata sobre la sensibilizacion de las personas qu... e nos rodean acerca de temas de interes humano, tales como ayudarse los unos a los otros etc etc More
How the groups works:
Propose audios that you think that are interesting from the audio tab. These will be added to the list Proposed Audios of the group.
Listen to proposed audios by other users from Proposed Audios tab and vote the ones you like. You have 3 votes per day and per group. los que más te gusten
The most voted audio of each day will become part of the group, being visible in the Top Rated Audios.
---
Podcast:
Cuando,Cerramos los ojos
Paco Álvarez, del blog noledigasamimadrequetrabajoenbolsa.blogspot.com/, realiza un alegato en el que acusa a algunos de los responsables de las injusticias qu
e está sufriendo la ciudadanía en estos tiempos de crisis. Extraido del programa No es un día cualquiera de RNE. El post es este http://noledigasamimadrequetrabajoenbolsa.blogspot.com/2012/01/yo-acuso.html
Genre: Radio
Channel: Otras ¡Historias!....
...
See more
---
---