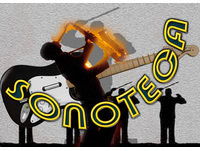 Subcategory: World's musics and others
Creation date: 21/02/2012
Description: Programas de radio (NO CANCIONES O TEMAS SUELTOS) que vayan ... de la música clásica a los grandes temas principalmente instrumentales de Jazz, Rock, Swing, Blues, Pop, BSO, sin distinción de géneros pero todos con una cosa en común: que sean de auténtica y contrastada calidad musical. Para quienes gusten de la buena música sin importar épocas ni gustos preconcebidos. More
How the groups works:
Propose audios that you think that are interesting from the audio tab. These will be added to the list Proposed Audios of the group.
Listen to proposed audios by other users from Proposed Audios tab and vote the ones you like. You have 3 votes per day and per group. los que más te gusten
The most voted audio of each day will become part of the group, being visible in the Top Rated Audios.
---